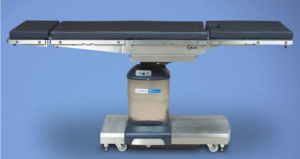 STERIS is proud to introduce the Cmax operating table that combines all the positioning capabilities of a general surgical table with the radiolucence and precise mobility of an imaging table, making it the most advanced, versatile surgical table on the market. The Cmax table is designed to support advancements in surgical procedures and imaging techniques and has six patented innovations, truly separating it from all other tables.
Key Features
ZIP SLIDE™ (patent pending): 18″ (454 mm) of tabletop slide maximizes C-arm access.
INTELLI-POWER™ (patent pending): truly independent dual power modes that also provide continuous auto-diagnostics.
HI-LOCK™ (patent pending): allows for quick and easy removal of the leg section with safety lock feature.
AUTO LIMIT SENSOR™ (patent pending): informs and prevents sectional articulation conflict.
KIDNEY™ (patent pending): extremely compact, motorized, radiolucent kidney elevator.
E-SERVE™ accurately diagnoses and/or repairs your equipment.